an
Nothing better comes to mind in the summer season quite like a pool party. Gathering family and friends together to enjoy the sun, and cool off the heat in the cold water. But there's so much that goes into planning a fun poolside bash. Whether you've got a lap pool, a kid-sized space, or even just sprinklers, we've got plenty of pool party ideas to inspire your next epic pool party!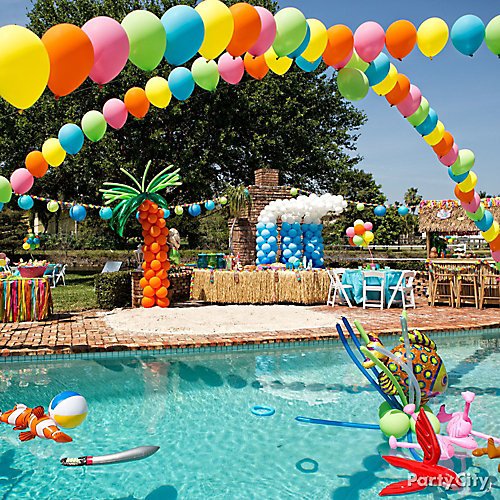 What's a party without a theme? It doesn't have to be something over the top as a pool party is sort of a theme on its own. I'm talking about something as simple as adding colorful décor, beach towels, and tableware to make it feel more fun. The brighter the better. Nothing says summer-like saturated hues, right? If you are still stuck and want to add a little pizzazz to the patio, here are some simple décor items we suggest.
A variety of sizes and colors of balloons are always fun and relatively inexpensive. Link different sizes together to form a balloon garland if you're feeling even more ambitious. If you've got no place to hang it, consider letting it float right in the pool if your guests are more about sitting poolside than splashing around. You can also fill clear oversized balloons with confetti before you add helium for a little extra color.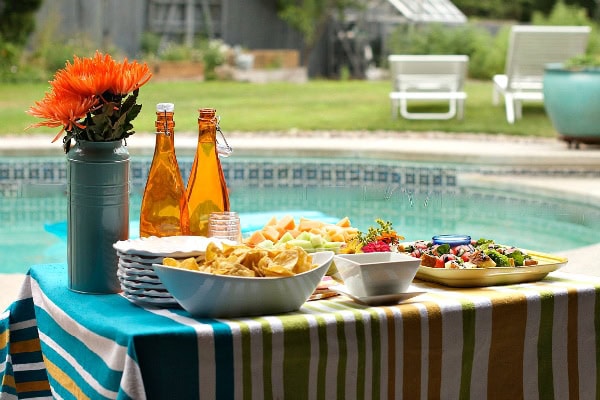 Once you got your theme and decorations settled, it's time to move on to the food. Keep it simple with finger food that isn't too fussy—think lots of cool, fresh fruits, vegetables, and chips. These easy appetizers should be something light that will keep people satisfied while taking their breaks. 
Another classic example of easy appetizers is a fruit platter with cream dip. Since people will be on the go, try to stick to little bites like these mozzarella-stuffed cherry tomatoes or this watermelon, feta, and mint salad that can be put on skewers instead of served in bowls. Grilled chicken wings or different types of meat skewers are also great starters. 
You can't have a pool party without the barbecue! The grill is really the star of the meal when you're having a summer party. Make sure to do a quick check of everything so that it is working when the day comes. This means checking to make sure your propane tank is filled and even grabbing a back-up tank. Clean your grill grates and all of the grill utensils you need. When the day comes, wow your guests with grilled hamburgers, cheeseburgers, hot dogs, chicken, and veggies.
If you want a classic setup that you can never go wrong with, bring the standard soda, beer, or canned wine. If you are here to throw on the best pool party every, go extra with mixing up a few signature cocktail bases. Fresh citrus, strawberries, or watermelon make great bases for cocktails. A few ideas to get you started: a Strawberry Thyme Lillet Spritzer, a Vodka Strawberry Lemonade, or a Pineapple Paloma.
Keep it simple and don't bother baking something elaborate. Who wants to turn on the oven anyway? Instead, why not try an ice cream sundae bar? Get a few different types of ice cream, all the fixings, whipped cream, and cherries, and let guests help themselves. Or, try making your own fruit-flavored popsicles. Fresh and tasty, guests will love gobbling down these ice-cold desserts.
The pool is really the star of the show and most people who aren't just soaking up some sun will be splashing around. Just having an empty pool is boring and won't provide the all-day entertainment people need. Adding some water toys such as Hula-hoops and diving rings will keep imaginations working all day long. If you got a water basketball hoop, even better! 
Most importantly, don't forget the playful pool floats. It is THE essential item that needs to be present at every pool party. They're so fun and will look great floating in the water. If you have some, great! If you don't, here are some that we suggest that can be purchased from our store. Click on the title and it will bring you up to our webpage!
The Rainbow Floating Bar is the perfect addition to your pool party fun! Nest your drinks without any worry of spillage with this practical floating drink bar. Our Rainbow Floating Bar is the perfect pool device for when getting out of the pool to grab a beverage is just too much work! The extra buoyancy of the raft ensures that your important summer drinks don't topple into the pool, no matter how large your cannonball dive is!
If you love eating watermelon in the summer, then you'll totally enjoy lounging in this eye-catching watermelon float. It's designed to have plenty of room for two to three adults. You can literally lounge for hours in this pool float without ever having to get up. Just make sure you apply plenty of SPF! This iconic thirst-quenching summer fruit has been transformed into a fun, durable, and Instagram-worthy pool float! Create the ultimate water play zone right in your pool with this amazing Giant Watermelon Pool Float. 
Floating by yourself will get boring. Why not bring in 5 more people to float with you? This gigantic inflatable unicorn float is 10 feet wide with open mesh floor space that provides the perfect spot to soak your feet on a hot day. It has built-in cup holders for each seat so you relax and enjoy the day without worrying about your drink spilling!
Well, there you have it, the essentials for throwing the ultimate unrivaled pool party ever. You basically can't escape a weekend on Instagram without seeing how much fun your party is. If none of the pool floats catch your attention, we have hundreds of more on our website. Come check out our collection of pool floats and wow your guests! Click here to learn more.